King Abduallah Ibn Abdul Aziz Al Saud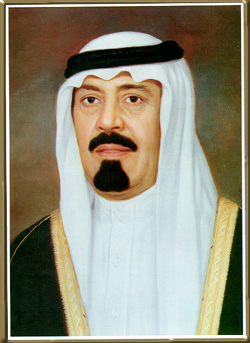 HRH King Abdullah Ibn Abdul Aziz Al Saud was born in Riyadh in 1924 (1343 H). He was taught by a group of senior Ulema and prominent teachers. His knowledge was enhanced by his wide reading in politics, the economy and culture. In 1962 (1382 H) King Faisal Ibn Abdul Aziz appointed him Head of the National Guard, a military institution with a civilizing mission. Prince Abdullah heads this organization and has transformed it into a well equipped modern institution. In 1975, King Khaled issued an order appointing HRH as Second Deputy Premier in addition to his post as Head of the National Guard. When King Fahd assumed power following the death of King Khaled on 13/6/1982 (21/8/1402 H), he chose Prince Abdullah Ibn Abdul Aziz as Crown Prince and First Deputy Premier. Prince Abdullah has played a remarkable role in achieving reconciliation and settling differences between Arab countries. In addition to his wide reading, Prince Abdullah is known for his love of horsemanship, a hobby reflected in his patronage of the Equestrian Club in Riyadh. His penchant for wide reading is evidenced by the establishment of the King Abdul Aziz Public Library in Riyadh, the capital, which contains thousands of books. In addition, he has established the King Abdul Aziz Foundation in Morocco. Prince Abdullah Ibn Abdul Aziz also patronizes a cultural and social festival held annually in Janadriyah near Riyadh, under the title "National Festival for Heritage and Culture.". All those concerned with cultural, social and heritage activities participate in the festival, which is attended by men of letters and media professionals from Arab and Islamic countries.

Appointed King of Saudi Arabia on 1st of August 2005 Following the death of late king Fahad.