King Faisal Ibn Abdul Aziz Al Saud
1906-1975 (1324-1395 H)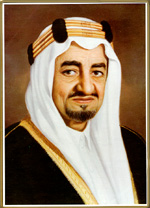 Faisal Ibn Abdul Aziz Ibn Abdul Rahman Ibn Faisal Al Saud was born in April 1906 (1324 H). King Faisal participated in politics for 40 years, undertaking various governmental and administrative responsibilities during the reigns of his father, King Abdul Aziz and his brother, King Saud. Having earned wide experience, he was qualified to lead the Saudi State when he was declared king in 1964 (1383 H). He appointed his brother, Prince Khaled, as Crown Prince.
Important Achievements
King Abdul Aziz involved his son, Faisal, in politics at an early age, sending him on visits to Britain and France at the end of World War I (1914-1918) (1331 - 1335 H). Britain conferred on him the Medal of St. George and St. Michael during the reign of King George VI. King Faisal led the Kingdom's delegation to the 1939 London Conference on the Palestinian issue, known as the Round Table Conference. As head of his country's delegation, he also represented it at the signing of the U. N. Charter in San Francisco in 1945 (1364 H). Domestically, King Faisal led the Saudi forces to calm a tense situation in Asir in 1922 (1341 H). He also participated in the Yemeni-Saudi war of 1934. King Faisal held a number of senior posts during the reign of his father King Abdul Aziz Al Saud. He was appointed Vicegerent of Hijaz in 1926 (1344 H), Chairman of the Al Shoura Council in 1927 (1345 H) and the country's first Foreign Minister in 1930 (1348 H).
King Faisal devoted utmost attention to the economic, financial, industrial and agricultural spheres. Agricultural projects include the Irrigation and Drainage Project and the Sands Project in Al Ahsa, in the Kingdom's Eastern Region. This was joined to the Haradh Agricultural Project, the Abha Dam Project in the South, the Aforestation Project, the Animal Resources Project and the Agricultural Credit Bank. During King Faisal's era, agricultural land area increased exponentially and the search for water sources was encouraged. As part of the State's search for minerals throughout the Kingdom, the General Corporation for Petroleum and Minerals was established.
King Faisal expanded both general and higher education, giving special attention to the education of Saudi girls. The number of students sent on university and postgraduate scholarships increased rapidly. The State also gave financial assistance to students, distributing school books free of charge.
King Faisal's policy was based on a number of constants: safeguarding the country's independence and identity, preserving the Arab League's Charter and actively advocating Islamic solidarity. He called for the establishment of the Moslem World League, visiting several Moslem countries to explain the idea. Still in the midst of his work, King Faisal Ibn Abdul Aziz was martyred on Tuesday the 25th of March, 1975 (13/3/1395 H), and was succeeded by Crown Prince Khaled Ibn Abdul Aziz Al Saud.